www.forbstco.com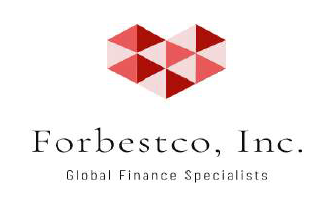 With 100+ years of combined expertise, our broadly diversified professional specialists will develop intuitive personalized solutions for the varying stages in your company's life, whatever your needs may be. Whether you are privately-owned or publicly held company, we can assist in delivering the perfect strategies and unprecedented relationships to ensure your business goals are accomplished on time, on budget and with flawless, professional execution. Bottom line…we save you time and money!
We provide services for almost any business needs including, but not limited to;
Investment Banking/Financial Advisory/ Financial Services
Secured Token Offering (STO)/Crypto Advisory/ IPO Services A-Z
Growth Capital for build-ups/Private Placements
Venture Capital/Mezzanine Financing
M+A & Financing for acquisitions
Recapitalization/restructuring/turnaround strategies
Financing Product line extensions/Factoring
Management buyouts/Business Valuation/Business Sale
Real Estate Purchase/Sale/Management
International Trade Development/Deal Facilitation Services
Global Market Entry/ Market Development/Marketing/PR Services
Trademark/Licensing
Franchise Purchase or Sale/Advisory
EB-5 Consulting/Investment Strategies
Highest levels of Confidentiality
In today's competitive business climate, we fully understand the need for stringent confidentiality. We can assure our clients the utmost discretion in every business transaction big or small. Our specialists are well-regarded, seasoned executives and have a high level of competency in their respective areas of expertise. We can guarantee your strategic plans will be protected, never disclosed to a third party and strictly confidential…always!
Our reputation should speak for itself!
Your success is our success. We provide the highest level of personal attention, responsiveness and execution. Word of mouth is what drives our business and we know that a satisfied customer will be a return customer. Repeat business is the hallmark of our success and our priority… always!
FULL TIME PROJECT MANAGEMENT WILL BE PERFOMED BY FORBESTCO PRINCIPAL MEMBERS. Paul Moran/CEO - Min Shi/CMO .
Complete Project coordination USA/China.
General Project oversight USA and Offshore.
Project & Business Development North America/Europe/Other.
Facilitate appropriate Legal Representation in required jurisdictions.
Facilitate/Supervise Appropriate IT personnel where necessary.
Facilitate/Implement/Supervise optimal Marketing/Token Sales vehicles.
Facilitate Investment Community management/advertising online.
Facilitate Road Show Development where necessary.
Facilitate Trading Exchange relationships.
Facilitate Investment Banking/Broker Dealer relationships.
Recruit Strategic Advisors and/or Board Members.
Recruit Necessary Personnel for Operations.
Facilitate/Supervise Personnel Training where necessary.
Facilitate Strategic industry partnerships.
Facilitate PR Strategy.
Facilitate Smart Contract Audit.
Maintain a "time sensitive" strategy for the project.
Prepare monthly progress updates.